Born in
Fondi, Italy
, Louis J. Marchetti emigrated to the streets of
New York
as a child. After serving in the US Army during WWII, he found his way to the
Art Students League
where he won two scholarships and studied for several years under renowned artists such as Robert B. Hale, Jean Liberte, Frank McNulty, and Frank Reilly, his mentor.
Marchetti's talents became best known in the field of paperback covers, where he created covers for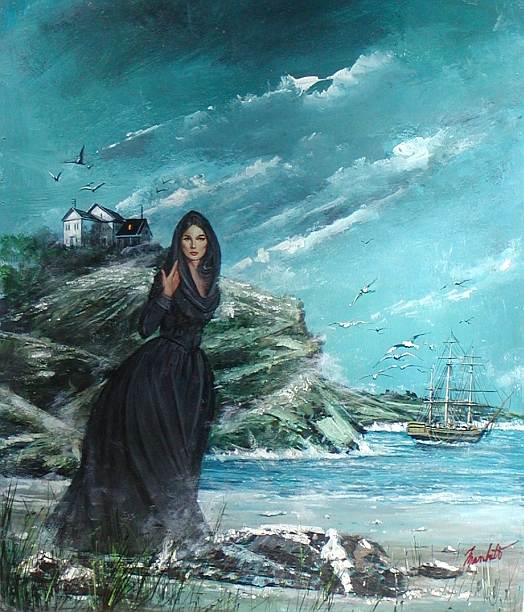 Avon, Ballantine, Pocket Books, Dell Warner, Lancer, Popular Library and Fawcett Publishing from the early nineteen fifties through the nineteen eighties. These houses were the giants of the popular publishing industry, and Marchetti's covers were to be found on book racks everywhere. This field, more than any other commercial area, allowed him to exhibit the breadth of his creativity. Although he painted many mystery, western, historical, and romance covers, he is best known for and often credited with creation of the Gothic genre which he produced in astonishing numbers.
Lou Marchetti's talents found exposure in periodicals. His illustrations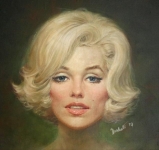 appeared in popular magazines as early as the 1950's. Publications with his work included LOOK, LIFE, TRUE, THE SATURDAY EVENING POST, READERS DIGEST, and TV GUIDE. His portrait of MarilynMonroe for the June 1974 issue of TRUE magazine is one of the most popular images of the movie icon, and exemplifies Marchetti's exceptional talent in painting women in a stunning way. He used this talent in the few privately commissioned portraits he painted, laughingly calling it "art brush surgery."
Marchetti participated in the United States Air Force Artist's Program during the 1970's, donating his talent. His works for the program are on permanet display at the Pentagon and the USAF Academy. Prints of some may still be purchased from the USAF Art Collection.

In the last decade of this life, the artist retired from active commercial illustration and devoted his time to creating fine art. He primarily painted the countryside and village streets of southern Italy near the place of his birth. During his lifetime his fine art was exhibited in the Grand Central Gallery in New York and in other galleries across the country.
Lou had the support of his loving wife, Venice, throughout his adult life. Venice supported them and their two children as Lou learned his craft at the Art Students League and struggled for many years before achieving success. Venice passed away at her home in Queens, New York in May of 2014. She is buried with Lou in the Calverton National Cemetery. Venice and Lou are survived by their two children, three grandchildren, and six great grandchildren.
. . . Louise Marchetti Zeitlin
(Lou's daughter) ©
All Rights Reserved